Electronic payment terminals are increasingly on the market. Different players are available and compete. We are talking about banks, of course, but not only. There are companies (French and foreign) that are independent and offer equally efficient or even better solutions for some companies.
Among them, we will find iZettle, Smile and Pay, SumUp and myPOS (although the latter is totally different from the first three).
In this terminal payment comparison, we will study the strengths and weaknesses of THE TPE. We will share our terminal payment opinion with all honesty: we have been testing them for several weeks.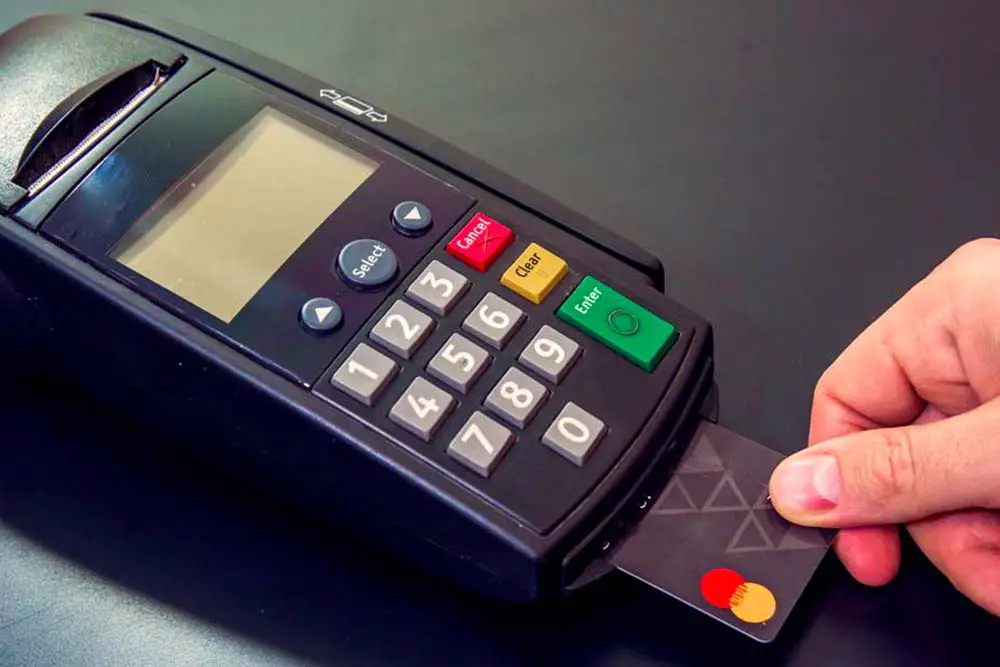 Our selection criteria for establishing our comparative study
To complete this comparison and find the best payment terminal, it is important to compare the three payment terminals on the same aspects.
Multiple selection criteria exist. We will talk about the price of the payment terminal, the ergonomics of the mobile application, the possibility of using the TPE without the smartphone as a standalone device, the authorized payment methods, the cards accepted by the payment terminal, is it it's easy to set up the device? How long does it take to have an efficient and ready-to-use electronic payment terminal? Who is the TPE for?
All of these issues are important. These are the answers that will allow us to conduct a complete comparison between each payment terminal.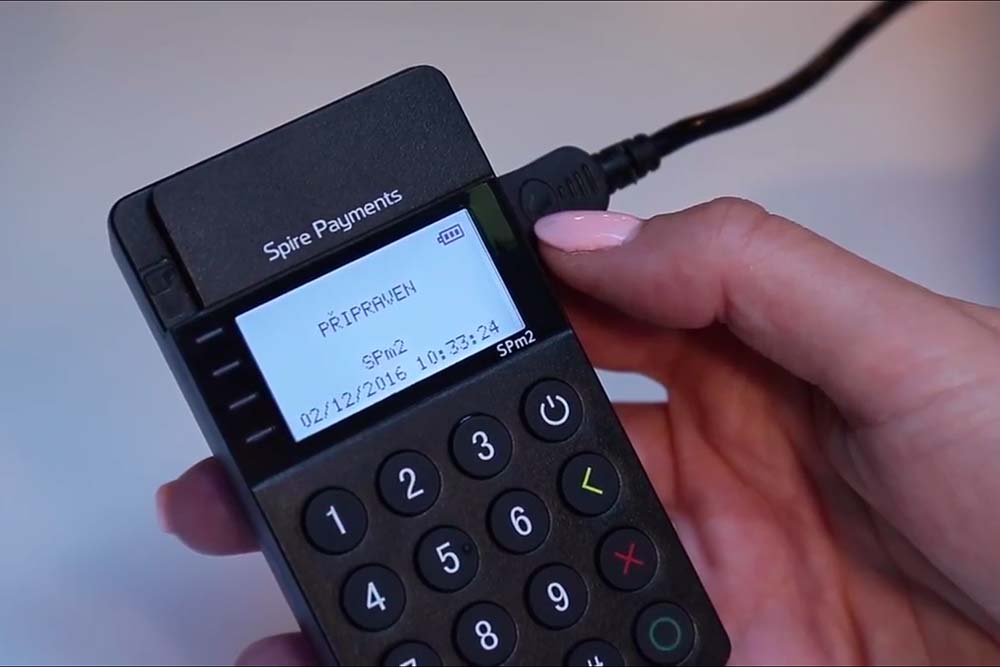 How do you compare the different payment terminals?
To make this comparison, we used the payment terminals available by the manufacturers. We handled them for several weeks and in very similar situations. Multiple contexts are available between the entrepreneur who works from home, the one who works in premises, the one who works in a car or the entrepreneur who travels all over Europe. We were not able to test them all, but the biggest one was done.
Comparing a payment terminal takes time. That is why we studied it for several weeks.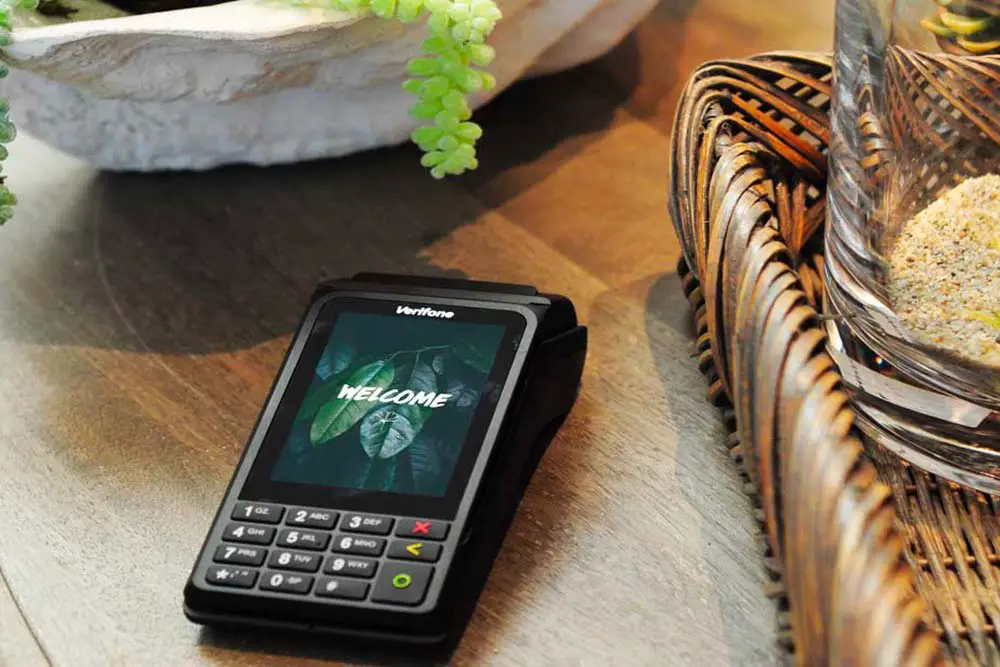 How do I choose your payment terminal?
Choosing the best payment terminal is complex. To reassure you, you have to ask yourself the right questions and find the product that will meet all your expectations. Here is a short list of questions to answer:
Am I often on the move?
Do I still have a tablet and/or smartphone with me?
Will a simple payment terminal suit me? Should we consider investing in a compatible cash register, a specific printer to provide payment receipts to customers?
Is the app important to you? If so, what do you expect from an application of this type?
Do you need a full TPE with the built-in printer?
Do you want an electronic payment terminal with an included SIM card?
Do you have the option to manage receipts by email or SMS in your professional activity?
What is the price you are willing to put in the device?
What is the commission rate you are willing to accept?
Other questions are possible, but they will be specific to each company.
TOP 3 of the best payment terminal
For this terminal payment comparison, we looked at three brands: iZettle, SumUp and Smile and Pay. We have done the terminal payment test for each of the products we are going to talk about.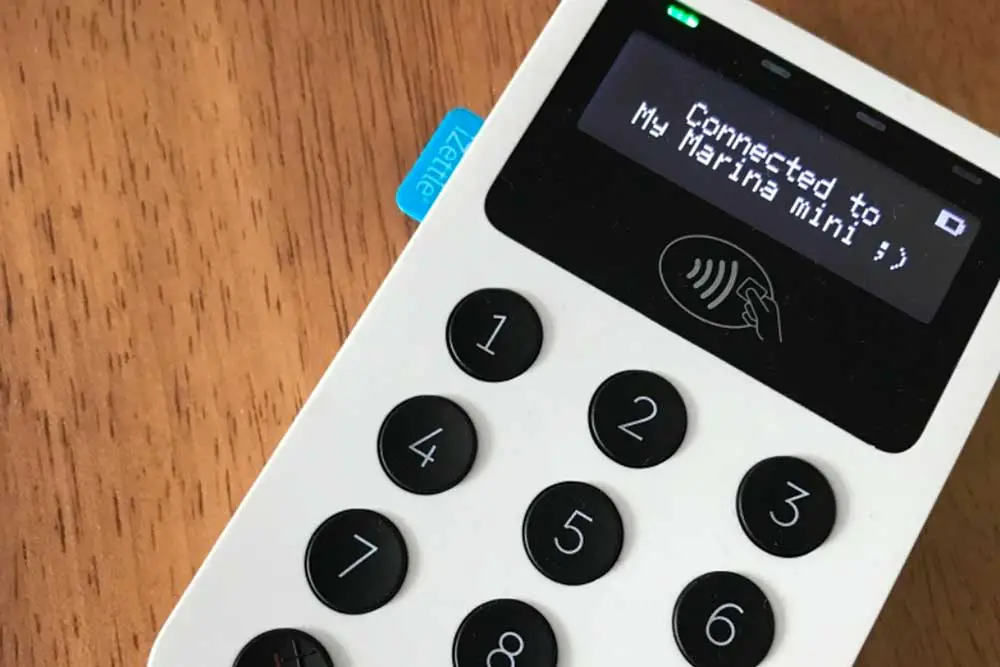 iZettle: voted best payment terminal
This company was recently acquired by PayPal. It is a company that stands out from the competition. They offer only one mobile payment terminal called iZettle Reader 2.
It's compact, available in two colours, and this TPE is easy to carry. This payment terminal allows you to accept a certain number of bank cards (almost all conventional cards are accepted including foreign cards).
The battery life of the device during the terminal payment test is interesting. Without being one of the best on the market, it is possible to last a whole day. That's what we're looking for. Traders who work all day will be able to cash in payments and top up the TPE overnight.
The size of the case is compact. It's a solid device that inspires confidence when you have it in hand. You can carry it everywhere, without fear of a problem.
This payment terminal has a very interesting function. The deadline for accepting a payment is very quickly. Normally, the acceptance time of a payment is around 10 seconds. Contactless payments will have a quick response in not even 5 seconds! It's the customer who's going to be happy!
Once you have cashed in money, the money will not go into your bank account directly. It will be stored on an annex bank and you will decide how often you will pay to your professional bank account. These funds can be transferred every night, every Saturday (on the day of your choice), once a month… It's up to you to decide what you prefer.
For some companies, iZettle requires the use of ancillary equipment, such as the cash register. It's a very comprehensive accessory that effectively manages your company and the sales you make.
iZettle's mobile app is certainly the most comprehensive of the three products we compare. It is possible to manage as many items as possible, such as your product catalog, manual billing, receipt editing and a complete history to keep an eye on cash receipts. Of course, VAT management is part of the game and is easy to manage. Through this application, it is possible to create promo codes that will allow you to offer attractive discounts to your customers.
One last point that we really like about writing is the ability to cash in several different ways. From the application, it is possible to cash in by credit card, cash, through a link sent or an invoice. This is very clever and the application is even more complete.
All for a relatively low iZettle price… (it can be at 19 euros depending on current promotion offers).
Pros and cons
Benefits of the iZettle payment terminal
It's a well-finished product,
Two colours available,
Compatible with MasterCard, VISA, VISA Electron, Maestro, JCB, China Union Pay, American Express, Google Pay, Samsung Pay and Appple Pay. Contactless payment is part of the game,
Quick and easy installation,
Response time for very fast transactions (about 5 seconds versus 10 seconds in the competition),
Compatible with a smartphone and tablet (Android or iOS),
One-day autonomy,
Purchase of the cheap payment terminal and a 1.75% commission levied on each transaction,
No commitment, no monthly fees,
The choice of the day to pay the money into your bank account,
Very complete application, but could be more so.
Disadvantages of the iZettle payment terminal
Requires a smartphone to connect, via Bluetooth, because the TPE is not autonomous,
It is not possible to control everything from the application, you have to go through the web interface on a computer,
It is not possible to cash money abroad with iZettle, the Turnover is conditional on the address of the company you mentioned when creating the account.
Conclusion
It's a very good product. This payment terminal is a great success, despite the obligation to be connected to a smartphone.
This TPE is showing solid growth and success with several entrepreneurs, such as micro-enterprises. It turns out that the tool, small, efficient, fast, efficient, has everything to convince them.
where
iZettle: read our full test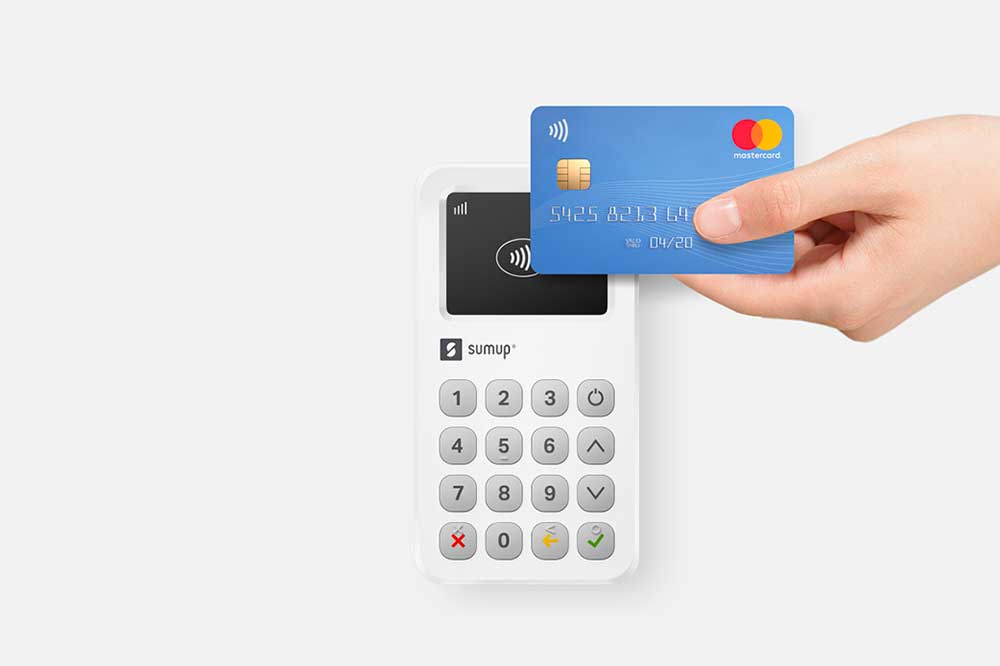 SumUp: Excellent value for money
SumUp is a company that markets two electronic payment terminals that are the SumUp Air and the SumUp 3G. These are interesting and complete products. They are intended for a very specific professional audience.
The main difference between the two is the presence of a SIM card in the SumUp 3G. The latter is more interesting for nomads who travel a lot or who are not often in their premises. With this built-in SIM card, they can cash in anywhere, as long as the TPE is connected to a network.
SumUp Air is a mobile payment terminal that works in conjunction with a mobile app (Android or iOS), thanks to Bluetooth technology. This TPE is small, compact and is interesting for people who want a modern and effective product.
In both models, it is possible to cash money through the chip, with or without contact. You can offer your customers to pay from their smartphone (Apple Pay, Google Pay and Samsung Pay are supported).
As with the iZettle payment terminal, there is no commitment to the company. If tomorrow you decide to stop using this TPE, you have the opportunity. There are no fees to pay every month as well. Finally, you should know that SumUp, as for iZettle, charges a commission of 1.75% on each transaction. This is the only "expense" that is made on your side.
When you receive the SumUp Air, you will realize that the configuration is very simple.
The application is also simple. There are four icons on the bottom of the screen. Each of these icons responds to something specific. The first icon will certainly be the part you will use the most, with a product catalog, payment management, manual cashing, etc. It's a well-designed part. The second icon is there to access the history when the third icon allows you to sponsor friends. It is a method to earn a little money. In our opinion, this is the part of the application that you will certainly use the least. Finally, the last icon is the wheel that allows access to the settings. This is where you can choose the different settings of your cheap payment terminal.
As with iZettle, it is not possible to cash in a foreign country (the company's postal address being the reference).
The cost of buying the device is relatively affordable with only 39 euros and sometimes an offer at 19 euros. Pay attention!
Pros and cons
Benefits of the SumUp Payment Terminal
Two electronic payment terminals are available, including a compact,
A version is 100% autonomous thanks to a 3G SIM card,
It is possible to cash in with or without contact,
No commitment, no monthly fees,
A single commission, levied on each transaction, of 1.75%,
Simplistic and intuitive application,
Relatively low product cost.
Downsides of the SumUp payment terminal
An application that is too simple for some,
Requires the use of the web version to carry out certain actions,
It is impossible to cash in abroad.
Conclusion
SumUp is a not-too-expensive and efficient electronic payment terminal. With two models, the company makes sure to appeal to different professional profiles. Whether people want the product to be used independently, or agree to be in constant contact with the smartphone (and benefit from more features like the product catalog), there is something for everyone.
SumUp set the bar relatively high.
where
SumUp: read our full test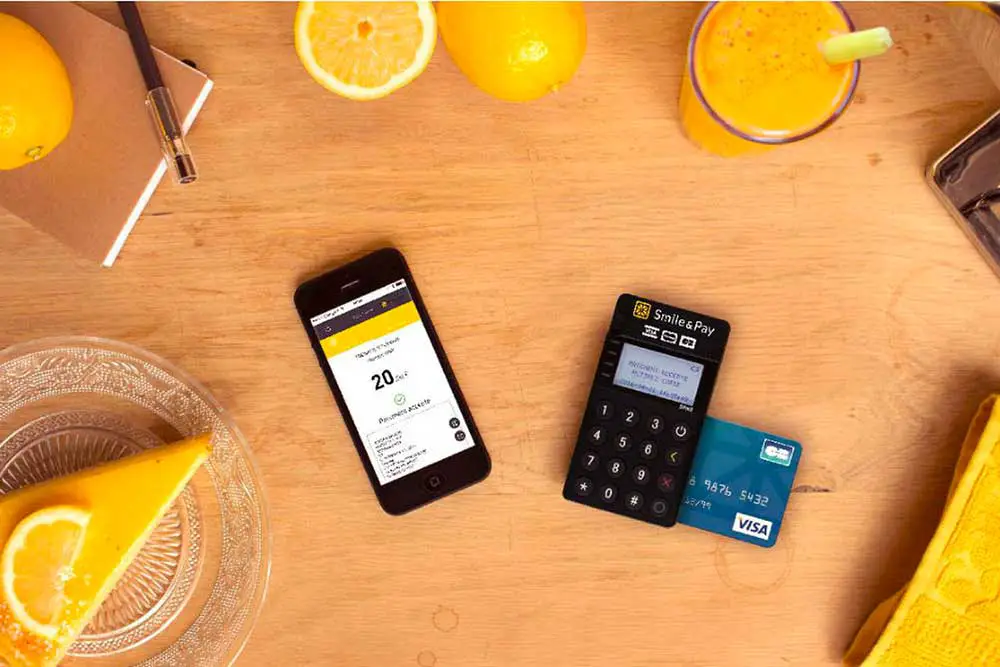 Smile and Pay: 100% French
Smile and Pay is a solution made in France. The developers who developed this payment terminal have their premises based in Paris and have been available on the market since 2015.
From the beginning, Smile and Pay's goal was to compete with iZettle and SumUp. Is this a successful bet?
At the beginning of its launch, Smile and Pay launched a product that is the simplified payment terminal. It is a very simple and minimalist TPE.
Then, to better keep pace with the pace of competition, we find a more conventional, more complete payment terminal that attacks the same target as iZettle and SumUp customers. That's when we find the Pocket Smile and the Maxi Smile. They are present at two rates, which are 79 and 299 euros respectively.
The PocketSmile is a TPE that does not take up space. It fits very easily in a trouser pocket. To give you an idea of the size of the product, it is very little larger than the size of a bank card. The vast majority of bank cards used in France are accepted (VISA and MasterCard). Contactless payment is supported, as are Apple Pay, Samsung Pay and Google Pay. On the other hand, foreign bank cards such as American Express and China Union Pay will not be accepted.
The other payment terminal, MaxiSmile, is a more complete object. It takes all the functions of the Pocket Smile and incorporates a SIM card to connect to a 3G or WiFi network. You can use it on the go. There are no data charges. The other advantage of this product is the presence of a printer to edit paper receipts (on the PocketSmile, receipts are sent by SMS or email).
The registration process is done online and is very fast. The card reader will be sent quickly afterwards.
Of course, there is no commitment period or monthly fee. There are two formulas: Basic and Premium. The commission rate is calculated differently depending on the offer. It starts at 2%HT of the amount and can drop to 1.2%HT. It will all depend on the turnover made each month. On the brand's official website, you will find a simulator designed for this purpose. The Premium offer is reserved for people who generate a large monthly turnover.
Pros and cons
Benefits of the Smile and Pay Payment Terminal
All-French solution,
Two payment terminals available,
Two offers for commission rates,
Without commitment,
No monthly fee.
Disadvantages of the Smile and Pay payment terminal
The cost to purchase is relatively high,
The use is exclusively reserved for France.
Conclusion
Having an all-French payment terminal is a real plus. It's a guarantee of quality.
Two offers are available to suit several professionals with two TPEs.
For people who make a turnover of less than 2000 euros per month, this is clearly not a solution for them.
To take full advantage of it, you have to achieve a certain turnover every month.
where
Smile and pay: read our full test
Is the level of security up to scratch?
All transactions with the electronic payment terminals we have cited are fully secure. Devices have been developed to display foolproof security at the same level as banks.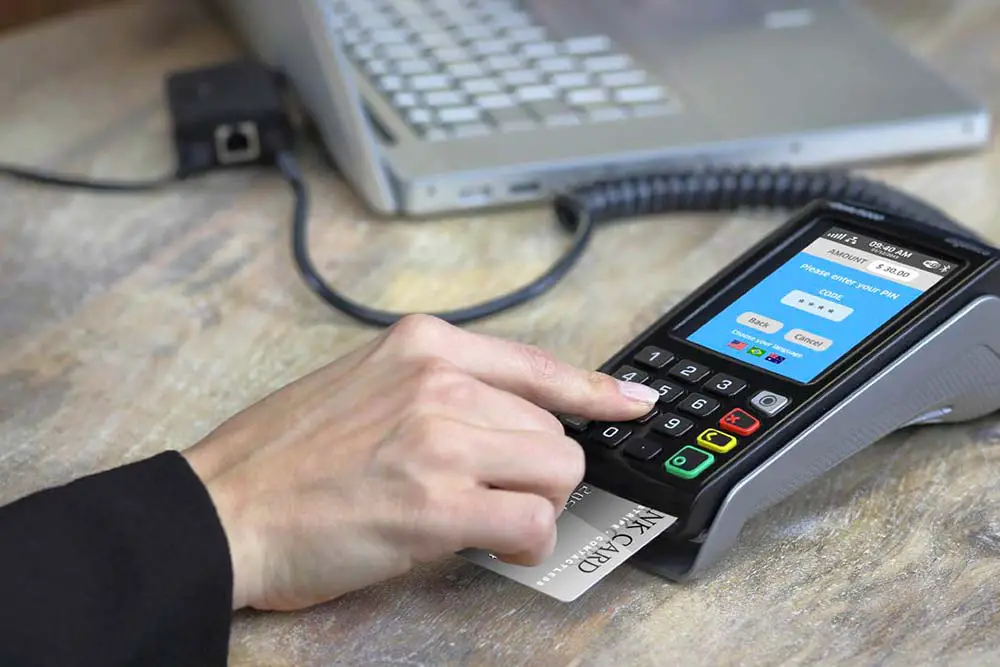 Benefits for the seller
The seller will be able to detach himself from all the (monstrous) charges imposed by the banks when they decide to use a TPE.
There is no longer any commitment.
There are no subscriptions or monthly fees. It pays a commission of 1.75% for each transaction, that's all.
It has a modern and digital solution.
It can cash from anywhere in France if it opts for a version with a built-in SIM card.
The benefits are considerable…
Benefits to the consumer/customer
The response times of banking agencies are much faster.
The vast majority of bank cards are present, with contactless payment, from a smartphone or a smartwatch.
If he is sensitive to the concept of zero waste, he will appreciate receiving receipts by email or SMS rather than by paper.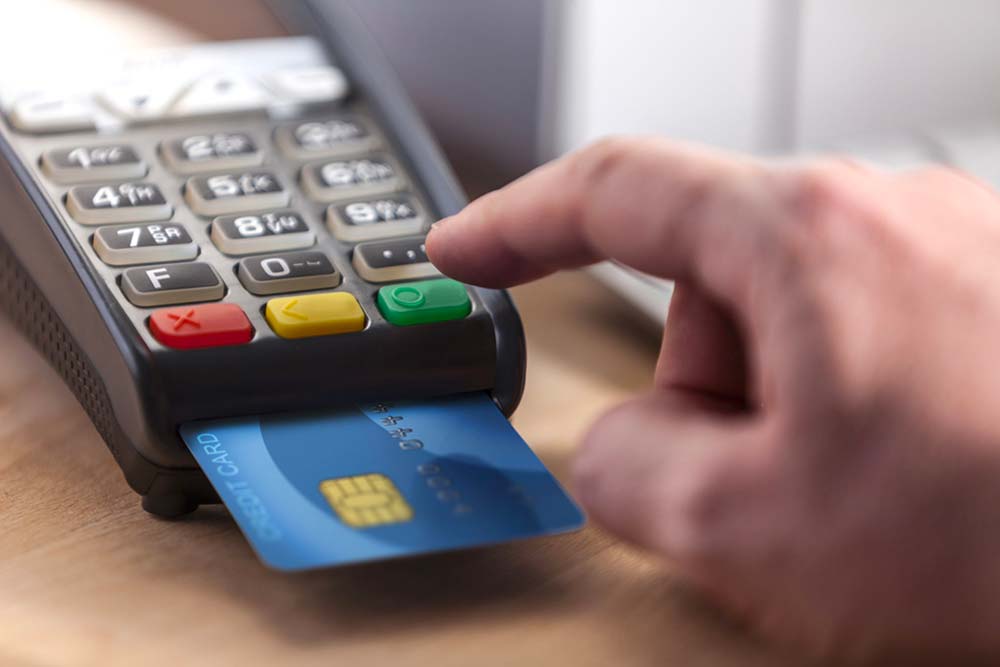 What are the criteria for choosing a TPE?
The choice of a good TPE must be based on these criteria:
The importance of the communication network,
The quality of the mobile application if the TPE is used without a SIM card,
The cost of the product,
The length of commitment,
The commission rate,
Flexibility to transport it,
A simple and easy-to-implement installation,
If it is possible to use it as cash register software.
Who to choose according to my profile?
The choice between iZettle, SumUp and Smile and Pay is going to be tough.
iZettle will suit all self-employed entrepreneurs who are looking for a cheap and effective solution and who move very little.
Nomads who often go on the move will appreciate SumUp and Smile and Pay, as they offer a payment terminal that includes a SIM card.
For companies with a large turnover, it is obvious that Smile and Pay's Premium offer with the MaxiSmile TPE will be the best solution available.
Where to buy your payment terminal?
Buying a payment terminal is relatively easy. Whether for iZettle, SumUp or Smile and Pay, operations take very little time and are done directly on the company's official website.
All sites are available in French and require the creation of an account, which you can reuse later to log on to the respective mobile app.
Conclusion
Choosing a TPE is complex. Several parameters need to be studied to find the best payment terminal.
There is no "best" product between SumUp and iZettle that have been fiercely competitive for several years. The French solution, Smile and Pay, slightly more expensive, will correspond to people who are looking for a more efficient and tailor-made offer (with the Premium offer).
In all three cases, they are great products and we recommend them all!