Configuration

Compatible

price

use
Quick summary Smile And Pay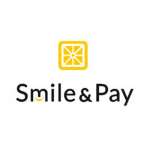 Smile and Pay is a French solution that came on the market in 2014. It is not as sophisticated and developed as its competitors like iZettle and SumUp which have been on the market for some time.
This solution provides a reliable method of cashing in when a customer pays in a credit card. Unlike banks, these offers are more attractive than the TPEs provided by banks: there is no commitment, there is no monthly subscription and the only expense you will make is a commission rate on transactions. This rate is not fixed, it is decreasing according to your monthly sales performance.
We regret that it is not possible to go beyond cashing. It is not possible to use various and varied accessories such as a cash drawer and printer to edit customer receipts. Less complete than its competitors, but just as interesting. Let's find out in detail in this comparison and review Smile and Pay.
A French solution to manage your cash receipts by credit card. Two offers are available: the basic offer and the premium offer. Big potential for change following a significant capital raising in January 2018 with more than 2.5 million euros.
The –
The most:
2 offers are available,
2 Smile and Pay payment terminals are available,
Commissions at declining rates,
Aimed at almost every trade,
Key bank cards accepted,
Apple Pay and Google Pay are allowed.
The least:
Quite expensive payment terminals,
HT commissions (not easy for micro-enterprises),
Little compatibility with cash software,
Not compatible with printers equipped with Bluetooth technology.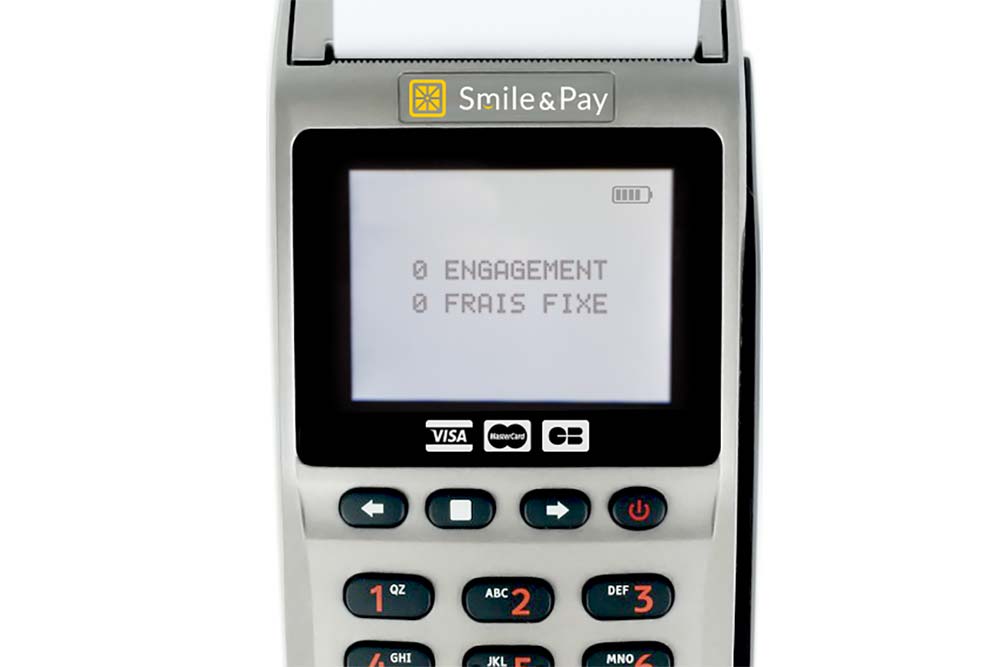 The various TPE Smile and Pay: Pocket Smile and Maxi Smile
Pocket Smile
The Pocket Smile is the entry-level electronic payment terminal. It is not autonomous and needs the presence of a smartphone to work. This Smile and Pay device is compatible with Apple's iPhones and Android smartphones.
The operation of this card reader is relatively simple to understand. From your application, you will enter the amount of the purchase made by the customer. By being connected to the Pocket Smile device in Bluetooth, the customer will only have to use his credit card properly.
The customer can pay in two different ways: conventional, "contact" payment and contactless payment. For the classic payment, just enter the card into the player, type its PIN, and you're done. All you have to do is choose the type of receipt (email or SMS) and it's over. There is no magnetic tape reader. The customer can pay contactless in two different ways. The first is to opt for the classic solution: you deposit the bank card on the TPE and it's good. You choose the type of receipt, and then it's over. The second is to use your phone or smartwatch and pay through Google Pay and Apple Pay. The NFC chips in the devices will connect. It's convenient and secure. Finally, the customer decides what type of receipt, between the email and the SMS, he wants.
With Pocket Smile, it is not possible to connect a printer to the network and we regret it very much. However, this is understandable: it is a strategic choice compared to Maxi Smile.
The Smile and Pay app, in our opinion, ergonomically, remains simple and fairly easy to use.
The '
The most:
Small and compact,
Compatible with Android and iOS,
Easy to use and manipulate,
Accepts contactless payment,
Virtual receipts.
The least:
Requires the presence of a phone and tablet to work,
You can't connect a printer to a network, even in Bluetooth, to edit receipts,
Very basic functions.
Maxi Smile
The Maxi Smile is the payment terminal that is closest to the one we know and use every day with banks. The design of the device is very similar to the TPE with a printer for receipts. Well, imagine that this is the case: there is a printer in this TPE!
However, it is cheaper than the one offered by the banks. The Maxi Smile is the TPE that will suit many entrepreneurs, regardless of their occupation. It is easier to acquire. When you engage with a bank, there is a commitment of about 2 to 3 years. Then, the appointment with the banker is necessary to correctly renegotiate the commissions, calculate the price of the rental of the device (or its purchase), etc. With Maxi Smile, you don't have to do all these steps, that's what's practical! The rate is known in advance, the subscription is included and there is no commitment.
According to the publisher cb Smile and Pay, this is an attractive formula for anyone who does not exceed 12,000 to 15,000 euros in sales each month.
Small detail that has its importance: no fixed or hidden costs!
The cost of buying Smile and Pay, which has a battery life of about 300 transactions, is 299 euros. This Smile and Pay price seems high compared to the competition.
This device does not require the presence of a phone or tablet nearby. It comes with a SIM card inside. It will use the Wi-Fi or 3G network to perform all the communications that the payment terminal needs. You will not pay any data fees.
Delivery is very fast, since in 48 hours you will receive this TPE which accepts all VISA, Mastercard and most bank cards available on the market.
The '
The most:
Mobile and independent reader,
Printer built into this card reader,
All bank cards are accepted,
No plan to pay, despite the presence of a SIM card,
Long life with 300 autonomy transactions.
The least:
Will not be suitable for companies with a monthly revenue of more than 15,000 euros.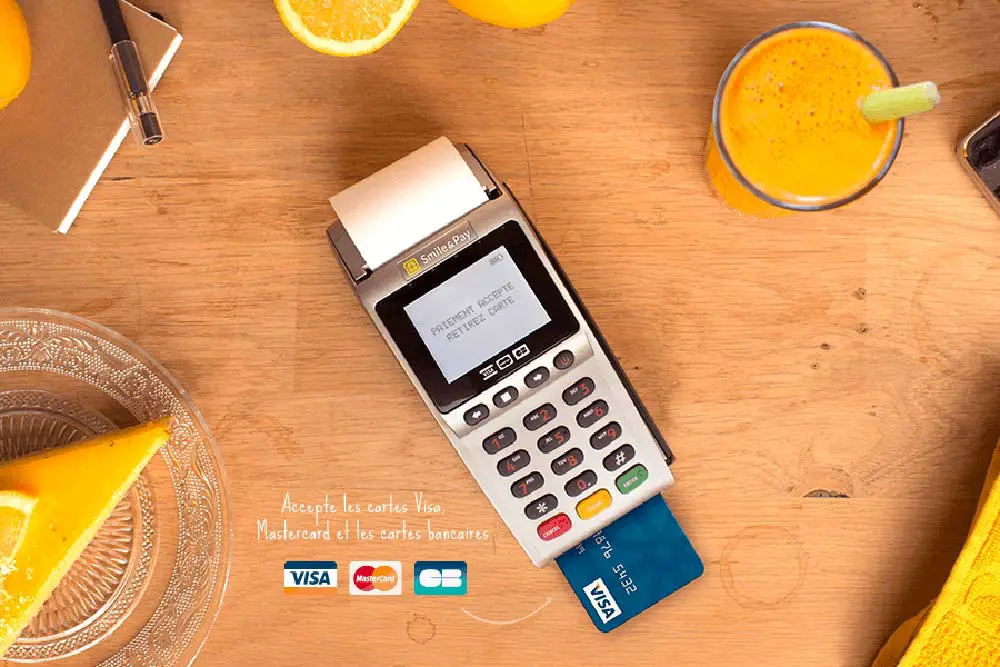 The various basic and premium offers
Basic offer
The basic offer is the offer that will suit the majority of small traders. The big difference between the two offers will lie in the rate of commissions.
With this offer, you will benefit from the free installation fee. Smile and Pay accompanies you and explains how to use the devices they make available to you. There is no commitment, there is no subscription, everything is clean on that side.
Monthly fees, in other words, commissions, are fixed and transparent. Depending on your monthly turnover, the rate will not be the same. They range from 2% to 1.2%. These percentages only apply to the Tax-free portion of the Turnover you made during the month. With a decreasing fee, this is an opportunity to pay only "the right price". The more you sell, the more you are rewarded! Between 100 and 2,000 euros of sales each month, the fee will be 2%HT. From €2,001 to €10,000, fees are reduced to 1.2%HT. For a turnover of more than 10,000 euros, the rate will be 1.2%, but it is perhaps interesting to consider the Premium offer. To find out exactly how much it will cost you per month, on the official Smile and Pay website, there is a simulator that will help you estimate the rate you will pay.
In this offer, phone and email support is free, activity reports are integrated and the Smile and Pay app is available, both on Android and iOS
The '
The most:
Free installation fees,
Transparent monthly fixed fees, declining fees,
Free phone and email support,
App available on Android and iOS,
Integrated and free activity reports.
The least:
Not suitable for companies with a monthly revenue of more than 15,000 euros.
Premium offer
It is an offer that will meet several people, who are looking for a solution to help them grow their business. With the Premium offer, companies with a large monthly turnover can find their way around.
The Premium offer could have been called abespoke offer. It's a personalized offer that will adapt to your situation. What for? Because from a certain monthly turnover, banks can become more interesting than they are… But they don't want to let these beautiful companies slip away! That is why, by talking to the company, they end up finding common ground.
The monthly fixed fee is based on your situation. This is a subscription with a levy by Smile and Pay.
Commission rates will, of course, be reduced to satisfy you. Both of these elements are customized and fully dedicated to you. We cannot give you the details of the bespoke offers, because each company is different. From what we know, the rates presented by this French start-up are more than competitive.
Then there are the basics of the basic offer, with free installation fees, free phone and/or email support, activity reports and apps available on Android or iOS.
You will be able to track all the cash receipts that take place on your account, in real time on the mobile application and the funds will arrive in 2 days (worked) in your professional bank account.
In case of problems, remember that the support team is based in Paris and that the company is French.
The '
The most:
Bespoke and personalized offer,
Monthly fixed fees and personalized commission rates,
All the elements in the Basic offer.
The least: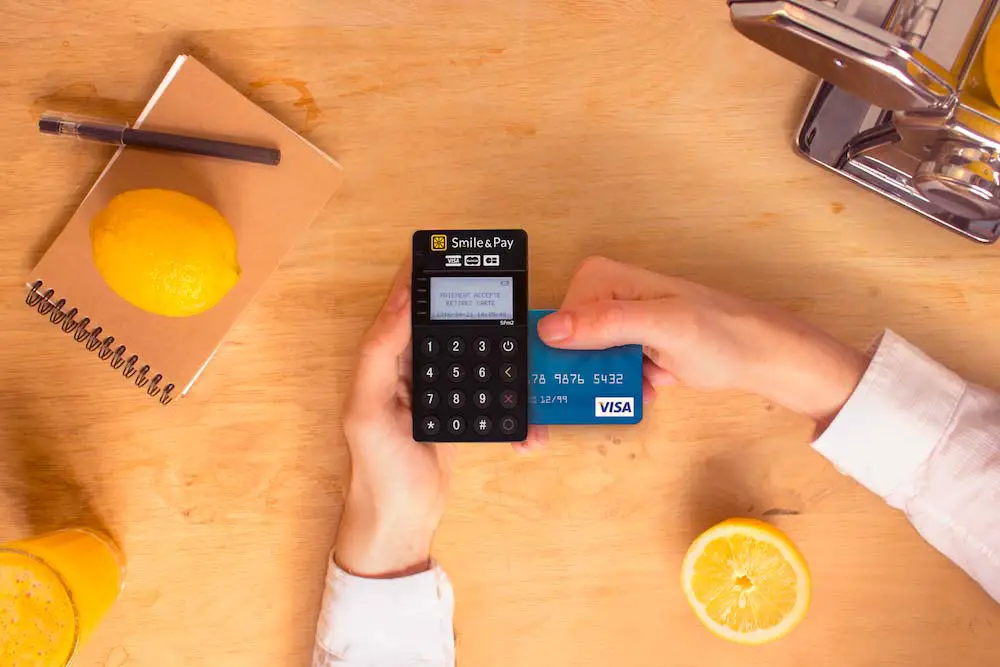 Smile and Pay box content
The boxes are very simple with a classic composition namely the mobile payment terminal,a cable to recharge it (for the Pocket Smile, the charger is provided on the TPE for the Maxi Smile) as well as a user guide.
Means of payment authorized by Smile and Pay
The vast majority of the payment methods we use on a daily basis are supported. Both devices will accept all VISA bank cards, traditional debit and credit bank cards and MasterCard cards, both French and foreign.
However, another method of payment is tolerated: restaurant tickets. This is a great advantage, as more and more companies are offering this type of card for their employees. When a Smile and Pay cb customer uses this card, the French company will not receive any commission.
To benefit from it, it is a matter of going to his personal space, adding a contract, inserting the identifiers of the CONECS contract and the trick is played.
Important point: not all restaurant ticket cards are accepted. They have to have the CONECS logo, they are second generation cards.
Rates: fixed and affordable transaction fees
The commission fee is on each transaction. It will be specified that the commission rates are tax-free.
Depending on your monthly turnover, you won't get the same rate. It starts at 2%HT (2.4% TTC) from 100 to 2,000 euros and is decreasing from 2,001 to 10,000 euros. The lowest rate will be 1.2%HT (1.44%TTC).
Beyond these amounts, it is possible to opt for a tailor-made solution with the publisher. The rates offered are competitive and should encourage you to continue using Smile and Pay.
Mobile app management
Smile and Pay's mobile app remains relatively basic and simplistic. We would have liked more features, but it's only for Pocket Smile.
The application allows you to carry out three actions:
Include the amount of a payment (there is no item management),
Send a receipt, either by email or SMS,
View transaction history.
However, the use of the app remains quite intuitive. People who are angry with the technology will have no trouble using this app with the Pocket Smile.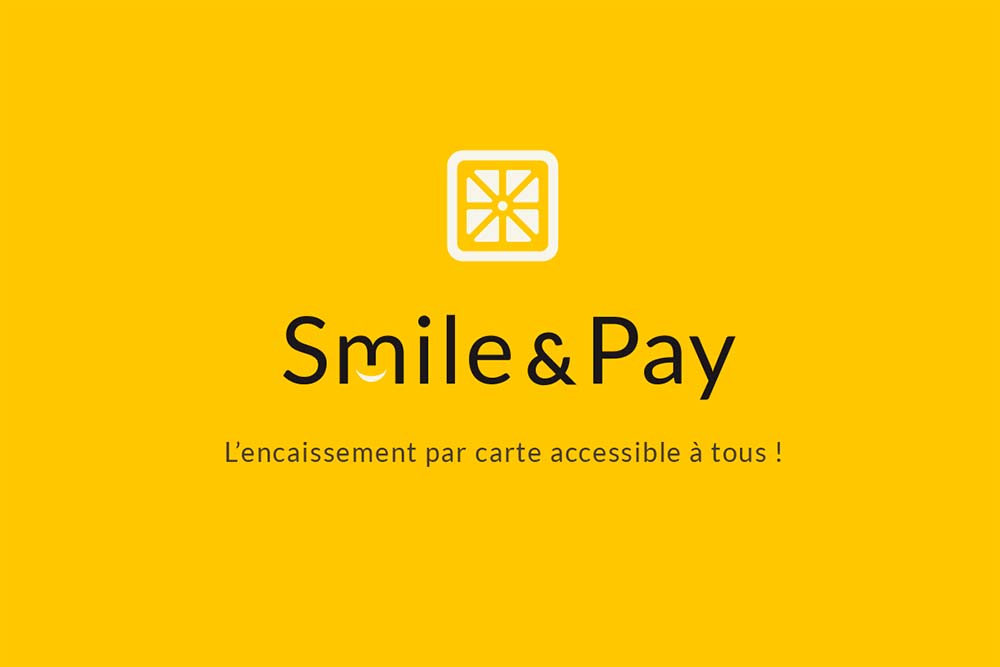 How do you get your money back?
The recovery of his money is done automatically. When you sign up, you will have to provide all the banking information to receive the money. Then, every day, a transfer will be made to this account. You'll see it appear on your account statement, within 48 hours.
Small clarification: only "professional" French banks are accepted by Smile and Pay. However, some institutions called neobanks are tolerated:
Anytime
N26 Business,
Revolut,
Mr. Sogexia.
How do I order the Smile and Pay Payment terminal?
Ordering the electronic payment terminal is only possible on the brand's official website. You can register from a smartphone, tablet or computer.
The duration of registration, in our case, did not take us more than 10 minutes. Unlike a traditional bank, you don't have to make an appointment with an advisor.
Registration is easy. You will be guided every step of the way. To do this, several elements are required
A scan of his ID,
An email address,
A NUMBER of SIRET,
A bank card,
A cell phone.
Smile and Pay customer service
The company is French in Paris. You have three ways to contact them and they are all effective:
Through their FAQs: they put a Fair Questions with lots of useful and easy-to-find information,
Through customer service on 01 83 81 82 95,
By email to [email protected],
Via online support where an advisor will respond to you fairly quickly.
How do i set up your Smile and Pay payment terminal?
Once you receive your Maxi Smile, you'll need to set it up. Turn on the device by pressing the "Power" button in red, choose the mode of communication (Wifi if you're at a fixed point of sale, 3G if you move everywhere), log in to your Smile and Pay account created when you sign up and it's over!
The Pocket Smile asks that the card reader be turned on by pressing the "Power" button at the top right. Afterwards, you have to go to the settings of the device by pressing the yellow "Navigation" button. Then find "Data Carrier" and select it by pressing the round green button. Finally, turn on Bluetooth on your phone and enter the match numbers that appear on the phone's screen, directly on the payment terminal to complete the transaction. All you have to do is launch the app!
Evolution to Smile and Pay's RoverCash cash register
The downside of the current market is that it is not easy to find a high-performance cash register software. You can use all certified cash register software, but unfortunately, with Smile and Pay, it is necessary to enter twice the amount.
Working with The RoverCash of LundiMatin, a French company, Smile and Pay has developed a successful solution. RoverCash couldn't cash in. Maxi Smile can't track, manage items, etc. Finally, all the gaps are filled and the result gives a solution 100% made in France. And that's what we love!
What type of business is Smile and Pay best for?
Almost all structures can use and buy Smile and Pay. We will find restaurants, professionals, craftsmen, physical shops, beauty salons, transport, associations or even the homeless.
Conclusion: Review of Smile and Pay
With a declining rate,Smile and Pay highlights an important point for the competition. Depending on the monthly revenue achieved, it is possible to achieve more or less significant savings.
The Pocket Smile may be a for me to get started, but the Maxi Smile remains the best solution. It is equipped with a printer (which the competing companies do not have), and fully autonomous and is a French company.
Sometimes we have a Smile and Pay promo code to share with you, stay tuned! Smile and Pay coupons save a few things on the purchase of a TPE.
We liked this Smile and Pay test, but the competition has a say.