Configuration

Compatible

price

use
Quick SumUp summary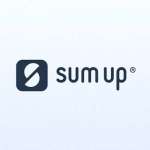 SumUp is a British company. It offers two EPTs for customers: SumUp Air and SumUp 3G. The main difference between these two TPEs is based on the connection. One works with Bluetooth when the other will use a cellular connection. The SumUp 3G is completely independent.
These devices are modern and perfectly adapted to current technological developments. SumUp is in the perfect line of what the competition offers like
Smile and Pay
and
iZettle
.
The operation of these electronic payment terminals are intuitive. Without revolutionizing the cash payment market, it brings significant advances: saving space, saving time, saving money.
To be very complete, the British company offers a store with additional accessories such as a cash register, a SumUp printer to edit receipts, etc.
SumUp is a company that markets mobile electronic payment terminals for businesses. These devices are compatible with smartphones and tablets and are easy to use. Ideal for entrepreneurs. Fixed Commission of 1.75%. No subscription.
The '
The most:
Ideal for small traders,
Fits well into point-of-sale systems,
High battery life of sumUp,
The SumUp 3G is fully autonomous and independent,
No subscription, fixed fees regardless of the TPE.
The least:
Customer service not available on weekends,
Not suitable for all trades,
A basic service with the minimum.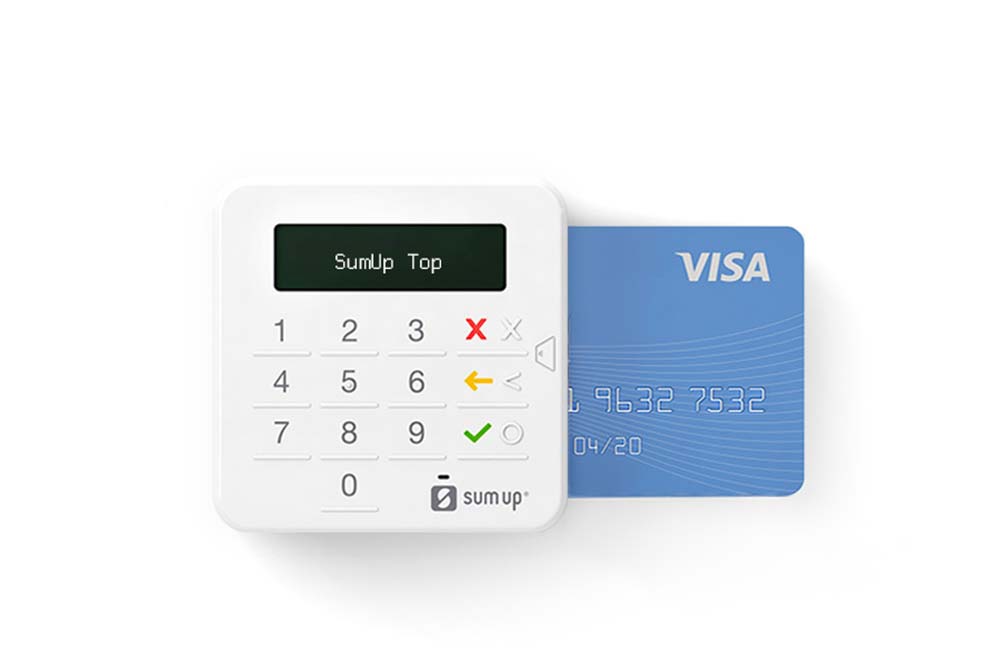 What are the offers: SumUp Air or SumUp 3G?
The company is currently offering two offers. They are not complementary and are aimed at a separate audience. Let's discover them together in this SumUp comparison, where our opinion will be shared candidly.
SumUp Air
The SumUp Air is a very compact electronic payment terminal. Its design and shape make it an easy tool to carry. At the checkout, it will take up very little space with its 7cm side and 2.5cm thick. It may be suitable for people who regularly change stores and want to keep the SumUp TPE with them.
It works with a mobile app that is well thought out. It is intuitive and meets the majority of the needs that small traders can have.
To pay, the customer has the choice between two modes: contactless payment as well as payment through the chip reader. We won't find any magnetic tape drive. To charge it, a USB cable is provided.
The connection with the app on the smartphone or tablet is via Bluetooth. To edit receipts, it is possible to choose a printer on the network.
SumUp Air accepts a number of debit and credit cards. This list includes the classicMasterCard and Visa. But that's not all. There is a Visa Electron, a Maestro card or a foreign bank card accepted by SumUp, the American Express. During our SumUp test, we didn't have a problem. All these cards are well tolerated.
Among its features, we will find a long-lasting SumUp battery that can hold up to 500 transactions. It recharges with a USB cable.
Finally, it will be remembered that there is no subscription. It is a product that is remanded through commissions. This is 1.75% and this rate is fixed. If you have a month's vacation planned, you won't have to pay for the terminal! The SumUp rate for a remote payment is 2.95% – 0.25 euros. To buy SumUp Air, you'll have to pay 39 euros.
The '
The most:
Battery with long capacity and rechargeable,
Small format, easily transported,
Easy to use and set up,
Intuitive application.
The least:
Is not independent,
The SumUp customer service present from 09:00 to 8:00, Monday to Friday and from 9 a.m. to 6 p.m. on Saturday.
3G SumUp
This device is different from the first one. First of all, it is 100% autonomous. It doesn't need to be connected to a wifi or Bluetooth network to work. It will work without a phone or tablet.
The SumUp 3G is perfect for people who travel a lot and regularly cash in money. With such a device, as small and easy to carry, you will save time.
As with SumUp Air, there is no subscription. Everything goes through the commission system that comes up with each payment. The rate is unique: 1.75%, regardless of the type of TPE you use.
The SumUp payment terminal is equipped with a SIM card, fully integrated into the device. You won't pay any plans to use the data. Everything is taken care of by the TPE company.
Except for payment with the magnetic stripe, contact less and contactless payment is accepted.
It is not possible to edit receipts. However, as many companies start to do, you can send them by SMS or email, which responds to an ecological approach!
The battery life is less important. It holds up to 50 transactions only.
Overall, it is an interesting product for some trades. However, it remains limited, it will not be suitable for all sectors of activity. The price of the SumUp 3G is 99 euros.
The '
The most:
Fully autonomous (no need to have a phone next door, SIM card is included),
No subscription, only a fixed commission for each payment,
Works from wherever there is network,
Is not compatible with the paper receipt edition, but it is a plus to preserve our paper.
The least:
Basic functions, the lack of printing of a receipt can hinder business sectors,
Is not compatible with point-of-sale systems,
Small autonomy (only 50 transactions).
SumUp box content
The English company has done a great job on packaging. Indeed, this one is more than sumptuous. The boxes are beautiful and simple. There is an all-white box, with a black logo at the top left and a minimalist image of the blue payment terminal. And that's it for SumUp Air.
For the SumUp 3G, there is a blue box with only the logo on the front and side sides.
The designs of each box are very successful.
The SumUp Air
In this box, we find:
The Electronic Payment Terminal,
The Micro-USB cable,
A sticker with a reminder of the authorized cards,
A guide to use in several languages.
The SumUp 3G
Always as minimalist, we have in this box:
The Electronic Payment Terminal with the pre-installed SIM card,
A universal USB-C cable.
Payment methods authorized by SumUp
Overall, all means of payment by credit card are accepted.
With SumUp Air,you can collect payments by contact and without contact. In these solutions, we find the classic contactless through an NFC chip that is found in this bank card. You have the choice to offer your customers the classic payment with the chip. To do this, he will have to enter his bank card the right way into the cb box of SumUp and type his PIN. Finally, you have the state-of-the-art and revolutionary contactless payment of recent years: payment from a smartphone or a smartwatch. The bank card is registered in the smartphone and the user will use facial recognition or fingerprint to make payments on the TPE SumUp Air safely.
All cards are accepted (Visa, V Pay, Visa Electron, Mastercard, Maestro, American Express, Discover, Diners and Union Pay) in addition to Apple Pay and Google Pay.
The 3G version of SumUp does not accept all cards. You can offer payment through MasterCard, Maestro, V Pay, Visa and American Express. Contactless payment is of course part of the game and you can use Apple Pay and Google Pay.
Rates: fixed and affordable transaction fees
SumUp differs from several other key players in the market. They use the subscription to secure a monthly income. Sometimes a monstrous cost for small businesses and micro businesses starting an activity.
SumUp preferred a fixed but interesting rate. It is simply a 1.75% commission on each transaction.
This is a one-time tariff with several advantages:
The TPE you buy, there is no SumUp rental fee,
You benefit from a 30-day guarantee, with the possibility of being reimbursed if you are not happy with it (satisfied or refunded),
One-year warranty.
The purchase of the TPE SumUp Air is available from 39 euros when the 3G version starts at 99 degrees.
Delivery of the device is free. The app is free to use on iOS and Android. Handling statistical tools and your dashboard is free. Contact with customer service, both by phone and email, is free. Finally, transfers to your bank account will be made within 2 to 3 days, free of charge.
Mobile app management
The mobile application is essential for the smooth running of the TPE, especially the SumUp Air. Everything is done from this software: transaction management, item management, cashing, fund management, receipts, reporting, accounting, etc.
In general, it is an "app" very easy to handle and take in hand. The SumUp app is compatible on iOS and Android. Creating an account is easy. The next step is to link the device to the smartphone or tablet. The process is simple and fast (you have to type an amount and detect the SumUp Air that is in the vicinity).
Once it's done, the app retains its minimalist side that you see everywhere. 4 icons are on the program: request inget, have a sales history, sponsor friends and settings.
The demand for payment is certainly the most important. Once you're there, you have a choice: either you enter an amount, or you add one or more items to the basket to get an overall amount by activating advanced mode. The management of items is, once is not custom, intuitive. We appreciate the management of VAT, which can vary depending on one product and another. When the final amount is inserted, it is up to the customer to pay. However, if you wait too long to pay, as a security measure, the transaction cancels. Finally, you can send the receipt to the customer by email or SMS. SumUp's official printer exists and costs €199, if you're interested.
To get information on accounting and reporting, you have two methods: the mobile application or the website via my
SumUp
account.
In these sections, you will find a detailed sales history. It is normal if you find a difference between the price the customer paid and the amount you have. The 1.75% commission must be withdrawn. On this page, it is possible to make a refund later or send a receipt.
Another section, the Preview section, is complete. You will find a summary of all sales over a period of time, the type of product that sells the most, etc.
Finally, one last very important feature is employee management. Depending on each person, you will be able to know exactly who is using the SumUp terminal, when the cashing was made, etc. You can choose to allow sellers to manage all transactions and refund customers. Sellers each have isolated statistics and you can easily view them.
The application is very well thought out. To take advantage of this, you need to activate the advanced mode that "unlocks" new functions.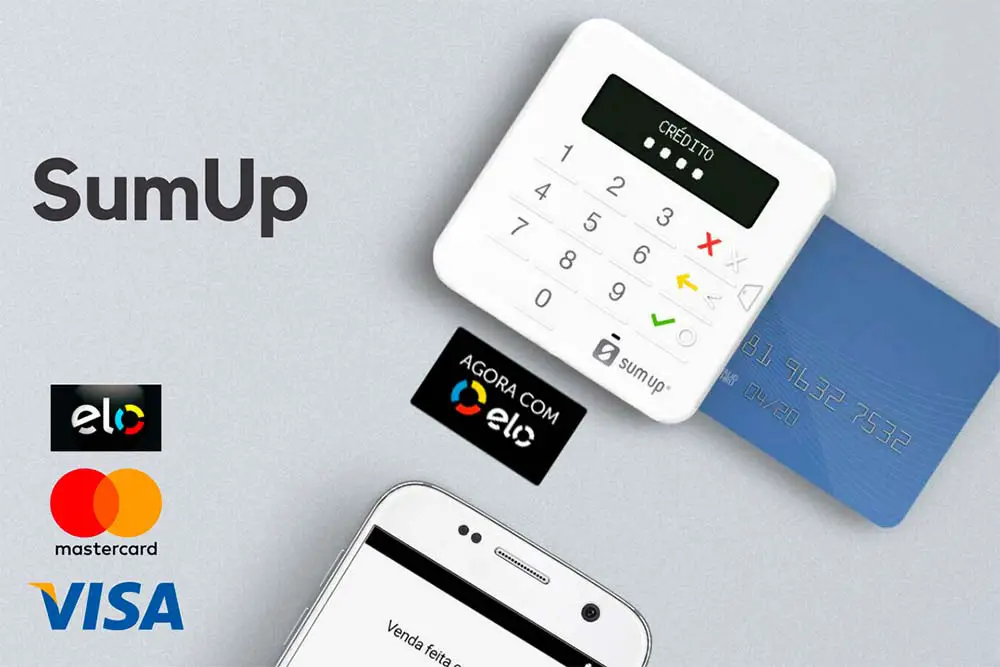 How do you get your money back?
Recovering his money is very easy to set up. From the SumUp web interface on My Account, you will have the ability to set a payment frequency. You can choose to make a weekly transfer to your bank account, every day or every month.
If you prefer to have a summary of sales, be aware that it is possible to set up a sales statement, each day, to know exactly how much you are going to collect.
When the payment request is made, you will have an amount that will be different from the amount collected, because that is precisely when SumUp collects the commissions.
On the company's bank account, the name displayed is "SumUp," as simple as that.
The time to receive the money ranges from 2 to 3 days, depending on the banks and their operation.
How do I order the SumUp Payment terminal?
The purchase of the CB SumUp reader is made directly on the official website. You will have the choice between SumUp Air and SumUp 3G. Simply register on the site SumUp.fr, order it, inform the payment method and personal information. You will then receive an order follow-up to find out when the TPE will arrive at your home.
As a reminder: the price of the TPE Air is 39 euros,with the delivery fee included. The price of the 3G TPE is 99 euros with the delivery fee included.
How the registration is made
When you've pressed "Get started", you'll need to provide an email address and password.
This is the part to buy SumUp (Air or 3G). Contact information is required as well as a means of payment.
A number of information is required to better understand the business you are doing, your business, your person and the bank account details where you will receive the money. It is suggested that you insert the SIRET number as a precaution.
You need to confirm your identity and a person address.
Add the professional mailing address.
Enabling the code following a code received by SMS.
In total, the operation takes no more than 5 minutes.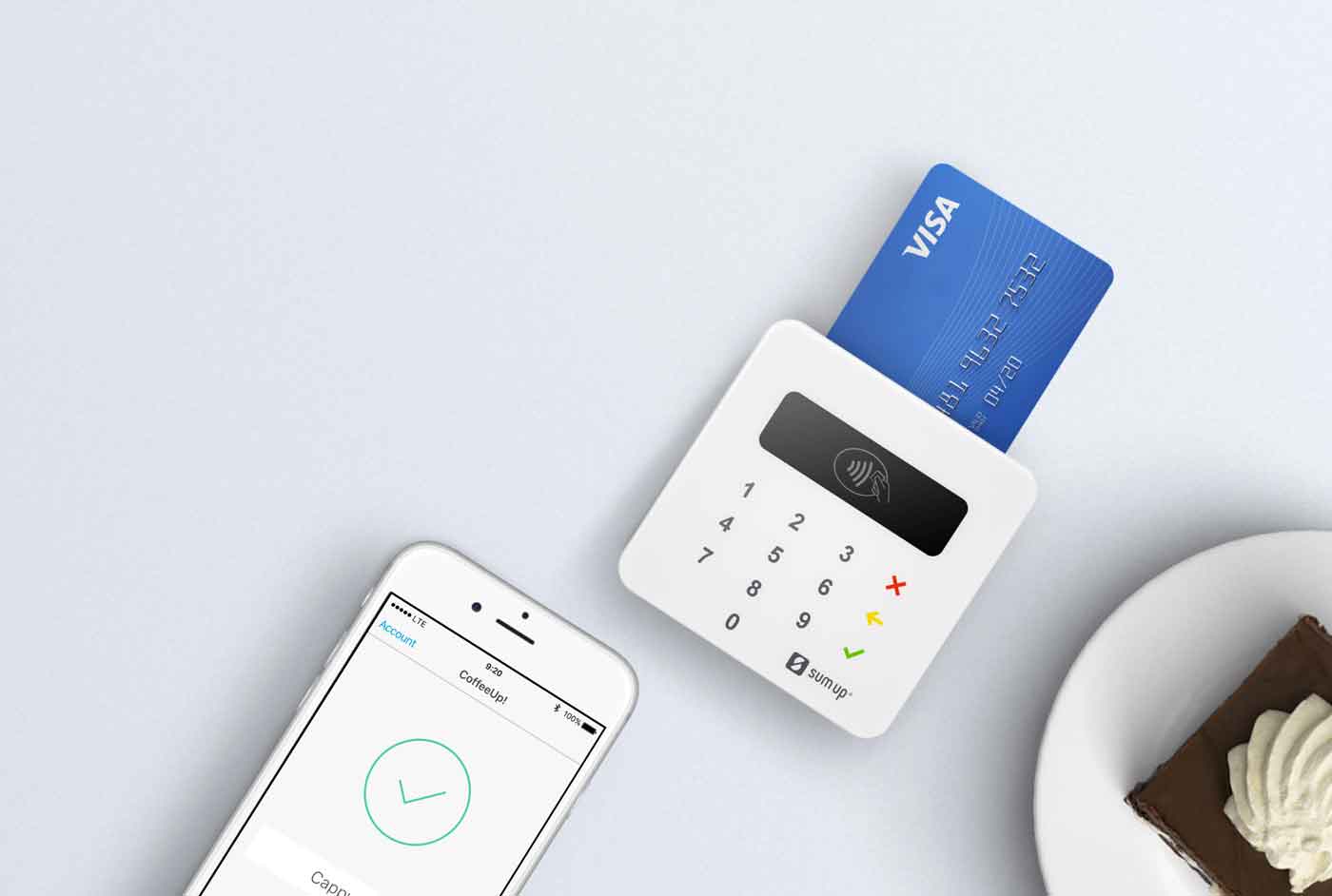 Sum Up Customer Service
To get in touch with SumUp, four solutions are available:
The online support center that has a database with several questions referenced. You'll have to find the gist of your questions,
By email to [email protected], from your main email software,
By message from the web interface, you will be notified by email, of the evolution of the conversation,
By phone on 01 84 88 30 81: they are available every day of the week except Sunday. The times where they are open are from 09:00 to 8p Monday to Friday and from 9am to 6pm on Saturdays. The number is French and has no surcharges.
How do I set up your SumUp payment terminal?
The SumUp Air configuration is simple:
Simply enter an amount on the card reader.
Then it will connect to the app, via Bluetooth. To be sure that this is the right payment terminal, you have to check the correspondence between the numbers on the back of the TPE.
And that's it.
SumUp scores points because the procedure is simple and easy to do!
The SumUp 3G configuration is fast:
Beforehand, registration must be carried out on sumup.me,
Turn on the device,
Choose the language of your choice,
Insert information from your SumUp account,
Then you'll have to make the first transaction!
The SumUp is ready to use.
Evolution to the SumUp Point of Sale
You can decide to invest in a real modern cash register that includes the SumUp Air. It's possible with the SumUp Point of Sale.
It includes a full and certified application with the various laws that concern cash registers.
This simplifies accounting management and you won't have any trouble handling it.
Finally, this offer includes supports to place various accessories such as an iPad, a printer, a cash drawer…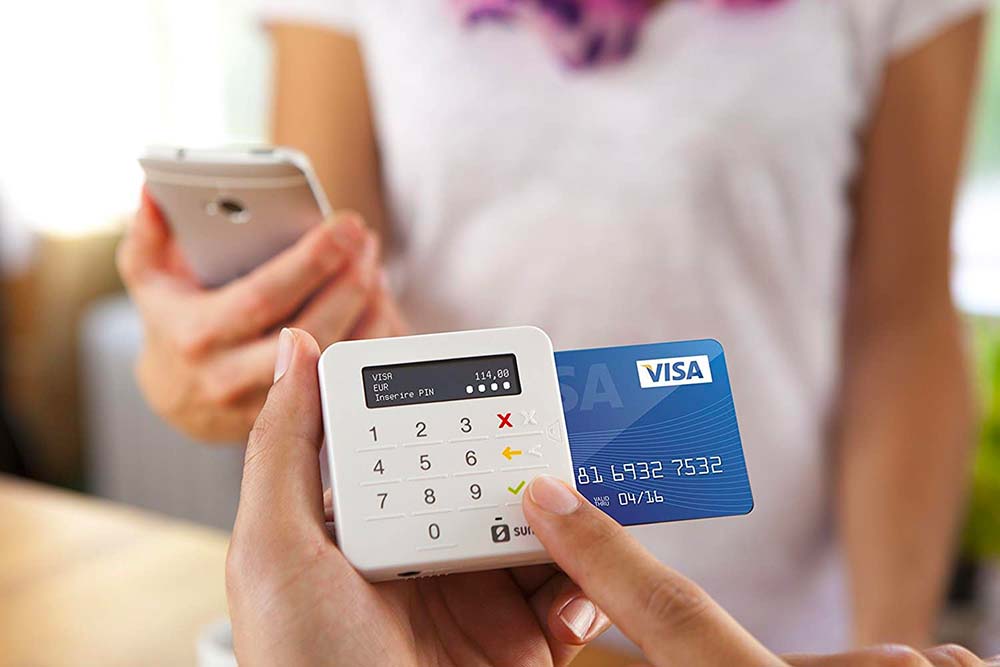 What type of company is SumUp best suited for?
These TPEs are aimed at a relatively small but qualitative audience. We will find entrepreneurs, self-entrepreneurs, craftsmen, independents, VTCs…
The main strength lies in the fixed rate at 1.75%. With a conventional terminal, you can easily find rates around 3%.
Some activities are not authorized by SumUp, such as the sale of weapons, drugs or prostitution.
Conclusion: SumUp reviews
Overall, SumUp, with SumUp Air and SumUp 3G, has introduced two high-performance EPTs. They are easy and easy to handle.
Simplifying all processes is a real challenge that she has responded brilliantly. Registration, manipulation, downloading SumUp, management and cashing will not pose any difficulty for people who embark on this adventure to cash in customers' money.
The price of the devices is low, not to mention the low commission rate. This is a great SumUp purchase!
We are very satisfied and convinced by SumUp.